Growth hacking tools are not just marketing automation as they might be classified as but expands on several more areas. It is about getting the right growth hacking tools in place, and it is not about one or a few tools but tooling in the following format.
Getting core tools
Getting integration tools
Using a wide variety of niche application tools
Customization in a low code no code approach
Advanced customization built on existing tools
Full customization where you develop your own growth hacking tools
A mix of all the tools is vital in enabling companies, but these six tools enable a growth hacker to use what is out there effectively. Finding a suitable growth hacking tool is about trial and error for the most part. It will range in combing specific tools like email marketing, social media marketing, google analytics, tools for customer data collection and beyond, and way more. Always consider your entire business before choosing the right mix of growth tools. A growth hacker's job (not a growth marketer
Before we get started, some helpful background to growth hacking
What is growth hacking?
Growth hackers explore new growth opportunities systematically at any point of the customer journey, from awareness through the market to brand ambassadors by optimizing the product. In terms of technology, it originated in 2010 when Sean Ellis coined it is mostly used by startups because of its limited budgets and limited resources. Since then, it has shown an incredible increase in popularization among large-scale and traditional businesses. Companies like Shopify like Uber has their own head of growth and dedicated growth team. The growth hacker is based on an experiment-based, data-driven.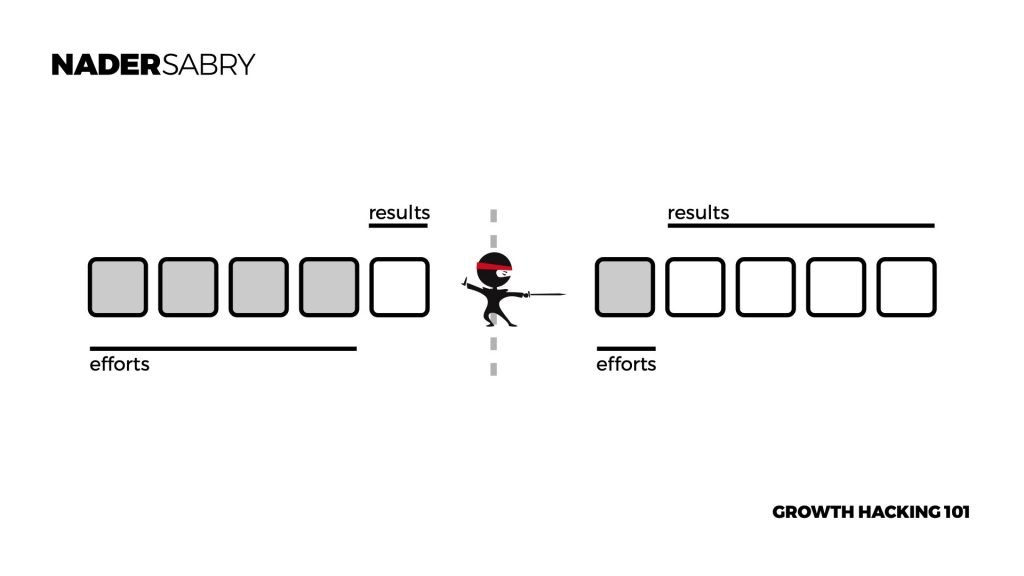 As there is a wide range of definitions, in the Book Ready Set Growth Hack, growth hacking is defined at a strategic level as a process that achieved disproportional results. This is best understood through an example of efforts v.s results. This is when less effort is exerted to get dispositional results.
How does growth hacking work?
Growth hacking, as defined in the Ready Set Growth Hack, is a systematic process governed by a concept called the growth cycle. The growth cycle is a three-phase process, where it starts with a growth problem, moves into experimentation then into scaling. Based on this process, once a growth problem is well defined through a specific process, it would then be up to the growth hacker to find solutions. Solutions are found vis structured and systematic experimentations.
Using growth analytics for data-driven growth decisions, growth hackers can quickly discover what works and doesn't before investing a penny in more development. This is governed by a process called growth thinking which is a design methodology used for growth hacking.
Break the rules – growth hacking
The hidden weapons of growth hacking are simple and simple: Be a rule-breaker. The job requires you to think outside the box and unleash your creativity. A growth hack involves having the right mindset on growth. This job requires creativity and ad-hoc experiment with hypotheses and high potential. Be creative growth Hacks won't come with any rules. Rule-breaking is at the core of growth thinking and how the growth hacking process works.
if a rule is working, find a better way to break I
If a rule isn't working, break it with a better one
If a rule is about to fail, let it and then break it
If a rule is about to have success, break that too
The growth hacking mindset or growth mindset is a very different way of working than that of other professions. Their goal is the north star metric which is basically a growth goal and only a growth goal.
What is a good growth hacking tool?
A good growth hacking tool has some fundamental characteristics you should be looking for. Remember, not all tools are fit for everyone and not fit for every case. That being said, here are some of the top considerations to take into account, especially for small businesses:
Cost – has a free or very low-cost entry point to start testing it out
Complexity – is easy to use so that you can develop a solution quickly
Results – can get basic results quickly and low cost
Scalability – can grow with you, and you scale
integration – ability to get the best solutions into your tool
Next level growth – what happens next? Can you scale or not with this at the end?
Some of the reasons why you would need a growth hacking tool would be for the following reasons, and this is important to keep in mind the goal of each tool. The best of tools are not ones that do it all which make you comfortable but rather finding the best of breed and using them in an integrated manner.
to generate leads to get potential customers
get more from existing customers
how to acquire targeted emails and email marketing
website optimization
how to best create landing pages
get customer feedback effectively
learn from user behavior
optimize social marketing efforts and social media posts
Analytics software that gives you an edge
how to optimize Facebook ads and google ads
how to improve influencer marketing
build manage and optimize marketing campaigns
managing and optimizing marketing channels
How to do marketing automation and well
Many integrations with the best growth hacking tools
growth hacking tool tracks the right data, not just any data
always keep abreast of top growth hacking tools
growth hacking tool makes automation simple
build good relationships with the service provider
always be on the lookout for new tools
Consider new tools all the time, especially ones that get you, new users or new customers. The best growth hacking tools should always shave that at the center of their offering, including the retention of existing customers.
The 20-minute growth hacking tool test
the 20-minute tool test is a way to see how good the tool you plan to use is. This is about suitability and alignment, not how great the tool itself actually is. In fact don the surprised that your 2nd, 3rd, or even 4th choice might outperform your first. This happens all the time. How the 20-minute growth hacking tool test works are like this:
Shortlist your top 4-5 tools
setup an account on all of them
define what would be the goal of this tool
Set a goal for the result that being a simple way t get started up and running, nothing complex
Start and see if you in 20 minutes this to can get you the basic results you want
If they do, you got the tool
if not detach, it moves to the next one
This approach enables you to see the whole spectrum of growth hacking tool options out there and then see which one is most suitable for your goals. A growth marketer is not the same as a growth hacker, but they need to work together on these topics.
6 high-level considerations for Growth Hacking Tools
Expandi is the #1 tool for Growth Hacks used by B2B marketing experts working very often with LinkedIn. To view and respond to an existing user profile, you can send the desired message to his person or their favorite user. Zapier is a tool to connect more than 1000 marketing tools to create powerful automation. Hotjar is a heat mapping software for your website that provides excellent insights into visitors' behaviors as they visit. Push notifications are one of the current methods and technologies to communicate with customers that will not be required to download an app. Depending on what the customer likes, Colibri.io helps you with that too.
01. Growth Hacking Tools for Facebook Messenger: MobileMonkey
It's not clear who is using Messenger for business, but no one's using it. MobileMonkey has dozens of Facebook growth hacking applications for Messenger. Messenger offers the opportunity to engage in a highly engaging and untapped marketing channel. The Messenger app is trending because it is compatible with many proven advertising tools: chatbots. Chatbots allow you to proactively engage with your audience through automation, such as automation to sending automated and specific messages about your previous conversation. The Messenger contacts collected in your Facebook marketing techniques can easily be updated to your other channels. This includes SMS text messaging, the native live chat of your website, and other web chat apps like Instagram.
02. Growth hacking tools for landing page conversions: Unbounce
Digital marketers regard Unbounce as the most common page builder without the need to work with code. The platforms 'Conversion Intelligence' and 'Smart Traffic' features help separate Unbounced from the competition. Its intelligent traffic feature also helps marketers build large numbers of landing pages. You can A/B test the different landing pages and the messages they deliver better overall. Conversion rates constantly increase, and the search engines reward you for doing so. Unbounce allows you to duplicate the top landing pages you have ever created. You have to create multi-channel campaign landing pages for your advertising campaign.
03. Growth Hacking Tools for SMS Marketing: MobileMonkey
Using MobileMonkey SMS marketing tools can digital marketers improve opens, response rates, and conversion rates dramatically. This allows businesses to communicate with customers through text or by mail at large scale. You can easily opt-in an audience through text advertising by using this feature. If you're still skeptical about e-mail marketing and if you think you need help, you're oblivious. Take a test of some reports from this series of 30 SMS stats. You need to be more careful when you think of a particular product you can implement with Mobilemonkey. SMS marketing examples can be adapted using this tool. This helps email marketing without using email marketing to tape into messaging capabilities in a dynamic way.
04. Analytics growth hacking tools
Analytics tool gives a clear indication about how your growth hacking experiments impact your startup's bottom line. These tools can even help your growth team uncover even more opportunities that will help accelerate your growth. Analytics tools are perhaps one of the more crucial software systems utilized by the multiple team members of your startup, such as the growth team.
05. Big Data Management growth hacking tools
Even if you were to start a startup, there was an excellent chance that our growth hackers would have encountered massive amounts of complex information. Equipping their Big Data team with technology will ensure effective collection of valuable data and improve business development in big data. Very important for email marketing and man other aspects.
06. Customer acquisition growth hacking tools
It is generally accepted that growth hacks are intended to get more customers. Naturally, it makes sense to equip your growth team with tools to help exponentially grow your customer base. A vital part of your marketing tools.
And here we are 32 low cost growth hacking tools to get you started
These select tools are not the only ones out there but are among the most used tools by most growth hackers. This list to get started, and don't forget to use the 20-minute growth hacking tool test.
01. Phantombuster
Phantombuster provides a comprehensive suite of Code-Free Analytics and Software Integration tools – including tools on LinkedIn, Instagram, Pinterest, Zapier Medium Quor, and others. It's possible either to use one tool like the one which generates the full workflow. You can Automate Lead Generation on LinkedIn.com or snag Instagram profiles for the same restaurant. This list may change at any time. Use Phantombusters on your social media channels and automate these tasks such as lead generation hiring developers, acquiring following from competitors, or Instagram accounts. An important part of your marketing tools.
02. OptInMonster
OptinMonster helps more than 700k websites convert traffic into leads or subscribers and generate sales. Pop-ups for exiting from the program trigger an alarm to ensure that the visitor doesn't come again. For people who might be on the verge of bouncing back, you have the opportunity of causing you to send a last-minute email. Also, if the visitor doesn't return then, it can be an effort to make sure that their visit to your page didn't become useless. Over 700-000 web sites use OptInmonster to convert traffic, subscribers, and sales into leads. Another strong visual website optimizer.
03. Manychat
Manychat is an online technology tool that helps create and maintain Facebook Bots for SEO and sales purposes. This is a great way to automate Facebook messaging. The same can be done for advertising campaigns. We used this method to promote the launch of our podcast Scale or Die and saw a better engagement rate than we did incomparable email campaigns. For comparable email campaigns, we have experienced much higher engagement among the top marketing tools for Facebook.
04. Optimizely
Optimizely is the world's leading experiments engine giving businesses power to run split testing for their customers. With this platform, you could suggest improving a KPI, use simulation tests to support your hypothesis, confirm your hypothesis, and implement changes and repetition. Their testing tool is used to develop marketing campaigns for large companies involving American Express and Ebay. Also, visual website optimizer is important in this area.
05. HubSpot
If the only software I could live without was Hubspot. This is great because it limits the number of touches we have to look at, and it makes obtaining more robust lead data easier. Plus, their blog provides high-quality information around inbound marketing, including blogs about the inbound marketing process and inbound leads—a great way to manage many marketing channels.
06. Sumo List Builder
Sumo's list-building tool allows you to collect emails through 7 different types of pop-ups and scroll boxes. It doesn't become excessively intrusive, and it assures the loss of precious money on traffic. 90 percent of your page traffic bounces despite any of your best efforts. Sumo's integration allows you to organize email lists using options such as clickable buttons and arrow keys. Growth hackers build this for growth hackers/
07. Mailshake
Mailshake is a Coldmail Outreach Tool designed for Sales Teams, PR agencies, and link builders. With the application, you can rapidly create and send automated marketing emails to promote leads. Growth Hack comes preloaded with outreach templates that you can easily drop into campaigns. Another awesome part about Mailshake is that you never get to reinvent the wheel. A classic for growth hackers and must use.
08. Amplitude
Amplitude offers you tools for product strategy optimization, improved user experience, revenues increase, and conversion. Amplitude also gives you tools for driving traffic and maximizing conversions. You can use Amplitude to set your product strategy and increase your user engagement and customer satisfaction at the cost of about $1,000 per person. Growth hacking tools that focus on low-cost are critical as they understand the importance of your ability to scale.
09. Zapier
With Zapier, you can connect virtually any major service (1500+ connections) with nearly any other service on the platform. It's wildly powerful, and it creates connections that you could never imagine. Zapier has massive power, which makes connections that may never have been possible. A Stripe transaction can be sent out to slack channels. Growth hacking tools with automation, integration, or scalability will not help you, but Zapier can do all of that and at a super low cost.
10. Typeform
Typeform provides you with a rapid way of designing forms and surveys to collect information from your visitors. How can I create Typeforms from scratch? Tell me the great value of this product is that it is in a style that embodies the design element of its products. The software product is not only functional but also well-designed. Want to know more about customers? Well, growth hacking tools that don't give you insights or feedback won't help you grow. The good news is this tool does and in an elegant way.
11. Pingdom
Pingdom lets customers monitor their top traffic pages. Pingdom is a free and simple way to schedule a check-in to check if your webpages are not slowing down by unnecessary plug-ins or scripts. It is the first time the technology can be used to calculate the speed of the highest quality websites worldwide. Growth hacking tools should always have speed as a feature to ensure they don't let your customers down.
12. CrazyEgg
CrazyEgg is a heatmap and A/B testing platform created by Neil Patel, an SEO genius. It is less powerful than Optimizely and VWO, but the obstacle to starting is also a little lower. With this comprehensive toolset, you know what works and what doesn't work easily. Again another old-school growth hacking tool but works like magic.
13. Hunter.io
Hunter helps you identify any information on an electronic email instantly. If your search isn't in the exact email, your search will show you the most common profile that the company shares with you (i.e., first name@company.com), Among the best growth hacking tools of all time. This is a classic, but it works like magic. One of the effective growth hacking tools
14. Mopinion
Mopinion is a User Feedback Tool that offers you access to data about your customers' experiences but helps you also analyze this feedback in real-time. These results are then presented in a visual graph for you and your teams to understand. Your growth team subsequently uses this research to create an interesting growth hack experiment with conversion rates. The tool also allows you to use forms to send emails to visitors to a site which do not convert. You then can address their concerns in an efficient manner that will not cause them to move their business elsewhere. The tool can help you find the negative feedback you're receiving critical part of the best growth hacking tools out there.
15. Databox
Databox is a powerful but simple Analytics tool that allows you to monitor your KPIs in more than 50 different platforms in real-time (an important part of the best growth hacking tools). A templates folder allows your growth team to present your organization's analytics in a format that their sales departments could use for report preparation and presentation. As a top priority, it will alert you and your staff to data if your stats show that you are not hitting your targets and so you can address it immediately. It will warn you when you are not reaching your benchmarks and quickly solve the problems you encounter.
16. Datadog
Datadog records and analyzes metrics related to the performance of your servers. The first two days of debugging are essential if you want an IT team to detect problems immediately in the process and ensure they prevent them from being spoiled or corrupted. The first four analytical tools focus on collecting data about your campaigns. Data is central to the best growth hacking tools.
17. Tableau Public
Tableau Public is a free Data and Business Intelligence visualization tool. All big and small things get extracted automatically and organized to be displayed as best you want. It also has a web interface to connect to a database or an API without programming. Users could use this tool even if they don't have the technical skills or training to succeed. There's the great thing about this growth hacking it also has an API accessible to other teams in the startup. Accessibility is a vital part of knowing you're using one of the best growth hacking tools.
18. Pentaho
Pentaho is a data integration growth hacking tool that helps integrate other tools and services used in startup and team environments. It should not be unusual for tools or platforms to work together and make one — or both—tools crash. Pentaho serves as a bridge that makes it possible to bring your entire tool suite together as one single tool. The Privacy Policy addresses a number of obstacles to your data getting blocked or corrupted. They may require blocking or corrupting data access to the database you'd want. Data protection and management are essential to growth hacking tools.
19. Colibri.io
Colibri.io helps you find people who match your buyer persona, particularly those who have already begun to search for your products and services. Because they are already going to make a purchase, receiving them and delivering them the information they are looking for increases the chances of you buying them rather than their competitors. Another one of those great growth hacking tools up there is a great tool.
20. LeadCrunch
LeadCrunch is an algorithm of growth hacking tool used to detect people who are likely to buy your products and services. It connects your current customers with people who look alike online. After gathering information, it ranks a series of leads to determine who should prioritize when making a selection. So not only does your sales team have the list of reliable leads, but they have exactly who to contact first to get immediate results. Without leads, we can get revenge which is vital as part of the best growth hacking tools.
21. Vero
Vero is a powerful growth hacking tool because it identifies each visitor and sends an e-mail to each visitor's behavior. A user can trigger workflows based on client activity, automate decisions and send messages across multiple channels with just a visual drag and drop interface. Vero offers a free trial and demo and is available on the market for £45,000. Vero also offers a demo of the app. Another good growth hacking tool for behavioral insights.
22. Qubole
The platform Qubole is specially built to handle Big Data analysis. It effectively amplifies and scales Big Data by organizing IT in the smallest format to be stored as a database in Google Cloud Storage and AWS. It's a great growth hacking tool to add to your startup because it saves you the need for upgrading towards a more powerful analytics device as your database grows more powerful. Cloud-based tools enable truel scalability as a growth hacking tool.
23. SalesIntel
SalesIntel, a leading sales intelligence and relationship platform, will help your team reduce the cost in your sales process by providing data to improve marketing effectiveness and reduce costs. This helps people to get the right people to develop their relationships and to convert into paying customers. SalesIntel can take essential steps regarding your marketing activities with its information. Conversion is critical for a good growth hacking tool—a great tool in the growth tools mix.
24. Consumer barometer
Consumer Barometer is a market intelligence tool that shows how individuals use the Internet. The most commonly targeted at retail businesses, this free growth hacking tool helps the user understand internet usage device usage research behavior and purchase behavior by instance. Users can also make graphs and charts of the data available free to download and to use. Knowing more about your customers is vital to be one of the best growth hacking tools.
25. Hotjar
Hotjar can mix multiple UX tools at once. Visitors can view colored heatmaps through clicking, moving, and scrolling buttons. You can collect visitor recordings to do a survey or do a survey. Feedback analysis and reporting cannot be obtained. The user can also visualize their use of heat maps. You can also collect visitor recordings from your site. Insights and data are always core to the best growth hacking tools.
26. Qualaroo
A new feature lets you quickly and easily respond to user questions by surveying your visitors' comments using Qualaroo. The questionnaires appear in a widget below the screen. This growth hacking tool also includes a tool that enables users to set different rules about when and where surveys start and who questions can be asked. Feedback and insights is an important feature of any good growth hacking tool.
27. OptinMonster Exit-Intent
The OptinMonster Exit Intent system can determine if a visitor is about to exit your website. When this happens, it displays a large message containing your information offer. But you can also keep your customer and lead by giving them more leads. In addition, exit-intent can help you attract new customers and convert leads into new customers. It is an old-school growth hacking tool, but it works and is always important as part of the toolbox.
28. WebEngage
The user can set up responses from surveys to trigger forms based on the clickability of visitors. The company sends messages via Facebook to an App for Android or the website, highlighting an event rather than sending back feedback to a person. Users can also create a feedback form and a survey builder for the user. The best growth hacking tools give you insights and feedback where and when needed.
29. MixRank
MixRank is a spy tool enabling businesses to track the traffic sources and banner advertising they use. This growth hacking tool scans millions of websites and mobile applications to decide which could be valuable customers by sending their contact details to your sales team as leads—an important part of the mix of best growth hacking tools out there.
30. Clicky
Clicky allows users to register and report the activity that is happening at their place of business: viewing and downloads. This is a good tool for a beginner, primarily as this dashboard is very user-friendly. Another popular growth hacking tool is Clicky. Up there with the best growth hacking tools in the growth tools arsenal.
31. Crowdsignal
Crowdsignal, formerly PollDaddy, is another software that makes it easy to create customizable surveys and questions from a website. You can either send out the link to its recipients using your website or use an iOS app. All results are provided in real-time. Crowdsognal is often seen as one of the best growth hacking tools seasoned professionals use in the space.
32. Hello Bar
Hello Bar is an automatic lead generation system using which you can place a clickable CTA button at the top of a website. Offer them exactly what they want as soon as they come on your web pages helps you significantly increase the conversion rate. This ranks as one of the best growth hacking tools out there. Growth tools you need as part of your toolbox.
Hiring a growth hacker
As a growth company, you will need a mindset that is built on growth. Let's learn about what works best for growing a team. Are there any good companies that hire growth hackers or a website? Allow Andy Johns to answer his own question. Tell me the most important point of an interview with a growth hacker? Hopefully, the answers you find on Quora will explain your question better. Can you list the interview questions of growth hackers?
Recommend the best questions to raise before hiring a Growth Hacker. Should we hire hacking companies or one that provides real money development hacking? Why not? Share your thought or opinion over there on Facebook or Twitter.
Breaking this all down, one of the main tools used in the field o growth hacking is the "T-Shaped" skills. This is essentially a method to evaluate the cross-section of skills needed and used for a growth hacker. A growth hacker needs to be cross-functional but good at many different parts all at once. The T-shaped skills challenge the traditional marketers; a few things like
strategy overall
marketing strategy
marketing departments are obsolete
Analyzing data and data analysis
growth rate
learn growth hacking
viral marketing strategy
viral ideas
viral tools
digital marketing strategy
advanced marketing campaigns
how to manage potential customers
how to acquire new customers
true north concept
reverse engineer
more traffic is not enough
advertising
going beyond search engines
going beyond basic analytical skills
going beyond landing pages
going beyond your own website
mastering repeat users
mastering viral loops
One last but important note, growth hacking is not digital marketing; this is one of the biggest misconceptions in today's world. growth hacking has many more aspects to it beyond marketing or digital marketing.
What are the T-shaped skills?
The T-shaped approach is spread across sections of skills that are combined towards a specific skill set. The T-shaped process isn't the only model but one of the most popular for growth hackers. This brings into play several aspects like:
LEVEL 1 – skills and capabilities 
Front-End Code
Service Design
UX Design
Behavioral Psychology
Stakeholder Management
Augmented / Virtual Reality
Finance
Omnichannel Marketing
Distributed Ledgers
LEVEL 2 – skills and capabilities 
Analytics (not just google analytics)
Conversion Rate Optimisation
Experiment Design
Funnel Marketing
Automation & APIs
AI & Machine Learning
Branding / Storytelling
Copywriting
LEVEL 3 – skills and capabilities 
Paid Social
Organic Social
SEO/SEM
Tools Marketing
Marketplaces
Sales
Email Marketing
Content Marketing
PR / Influencer
Qualitative Research
Virality
Retention
Mobile Optimisation
Landing Page Creation & Optimisation
Lead Generation
Revenue Testing
User On-Boarding
Lifecycle Marketing
These 35 skills over three levels are what help determine a good vs. a rising growth hacker. This helps growth hacking teams also manage diverse skills across the whole spectrum.
===========
Introduction to growth thinking — growth by design, how to thinking design, and growth hack.
GROWTH BY DESIGN – Most Growth Hackers struggle to get traction for new ideas. A lack of guidance and exact next steps are to blame. Imagine if you could grow a new concept from beginning to end, with a framework to move from thought and action in a fast, simple, and low-cost approach. Actioning ideas with precision isn't easy; with the growth thinking, science-backed design system built by the top minds in growth hacking, it's a simple, well-structured yet creative system that allows you to find growth. 
Growth thinking is a fast, easy, and simple way to prototype growth hacks. This enables growth by visualizing a growth hack in abstract and then detailing them into a systematic approach. This makes it easy to develop and improve growth hacks and generate new, better growth hacks.