Growth hacking is an emerging practice and many new practices are being defined. One of which is the growth hacker marketing concept. In light of traditional marketing, a successful company has to have an online marketing capability. They have a growth hacker who focused on product-market fit. One of their biggest challenges is shifting away from traditional marketing. Many Silicon Valley entrepreneur has paved the way through explosive growth to apply growth hacking. A successful company is good can generate explosive reactions PR marketing and advertising using customer data for idea generation from new customers and existing customers as well. In the end, they focus on self perpetuating marketing machine with a good product market fit.
About Growth Hacker Marketing
A primer on the future in public relations marketing and advertising — now updated with new case studies. Megabranded services such as Dropbox Instagram Snapchat etc. were on everyone's radar until long ago but they currently cost billions of dollars. Hackers removed the old playbook and installed new tools that are testable, trackable, and scalable.
This new edition contains leading case studies from companies and startups. Growth Hacker Marketing is the go-to-workbook of companies and entrepreneurs looking to grow. The book was a classic for marketers in Silicon Valley.
Before we get started some helpful background to growth hacking
What is growth hacking?
Growth hackers explore new growth opportunities systematically at any point of the customer journey from awareness through the market to brand ambassadors by optimizing the product. In terms of technology, it originated in 2010 when Sean Ellis coined it is mostly used by startups because of its limited budgets and limited resources.
Since then it has shown an incredible increase in popularization among large-scale and traditional businesses. Companies like Shopify like Uber has their own head of growth and dedicated growth team. The growth hacker is based on an experiment-based, data-driven.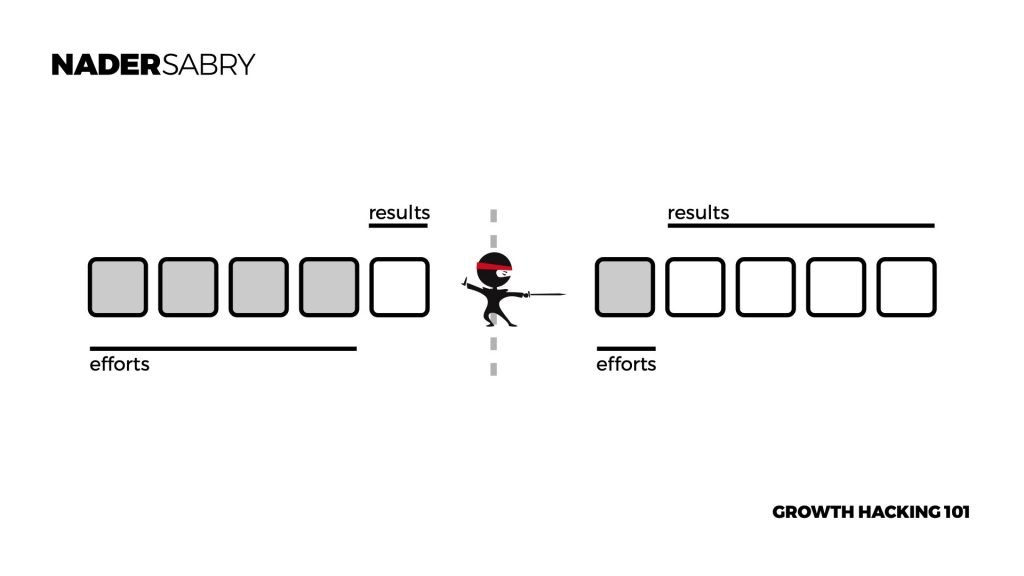 As there is a wide range of definitions, in the Book Ready Set Growth Hack growth hacking is defined at a strategic level as a process that achieved disproportional results. This is best understood through an example of efforts v.s results. This is when less effort is exerted to get dispositional results.
How does growth hacking work?
Growth hacking as defined in the Ready Set Growth Hack is a systematic process where is governed by a concept called the growth cycle. the growth cycle is a three-phase process, where it starts with a growth problem, moves into experimentation then into scaling.
Based on this process, once a growth problem is well defined through a specific process it would then be up to the growth hacker to find solutions. Solutions are found vis structured and systematic experimentations.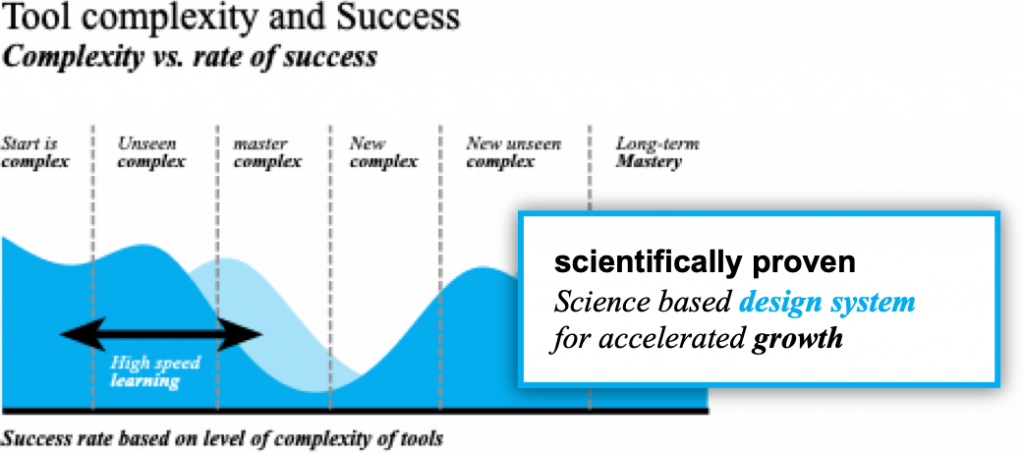 Using growth analytics for data-driven growth decisions growth hackers can quickly discover what works and doesn't before investing a penny in more development. This is governed by a process called growth thinking which is a design methodology used for growth hacking.
Break the rules – growth hacking
The hidden weapons of growth hacking are simple and simple: Be a rule-breaker. The job requires you to think outside the box and unleash your creativity. A growth hack involves having the right mindset on growth.
This job requires creativity and ad-hoc experiment with hypotheses and high potential. Be creative growth Hacks won't come with any rules. Rule-breaking is at the core of growth thinking and how the growth hacking process works.
if a rule is working, find a better way to break I
If a rule isn't working break it with a better one
If a rule is about to fail, let it and then break it
If a rule is about to have success, break that too
The growth hacking mindset or growth mindset is a very different way of working than that of other professions. Their goal is the north star metric which is basically a growth goal and only a growth goal.
How Fastest-Growing Companies Drive Growth Hacking
The Free E-Reader app can open Kindle books from any mobile device or desktop. There's no need for a smartphone.
Explore the book and if not immediately get right back from where you started with a page flipping! Discover information about your own stories and places with Wikipedia integration. View high-quality images and zooming in.
Enjoy exclusive digital features — begin reading as soon as possible, have a library with you, adjust fonts, make Shareable Notes and Highlights, and much more. To download the free app, simply enter your mobile phone numbers or e-mail addresses below and we will send you a link.
35 things to consider for growth hacking success
Some of the following topics and subject areas can create confusion and are some of the areas you need to consider to learn and understand better.
Does growth hacking work? of course, it does see what is coming next
famous growth hacking examples will not work for you; focus on your own growth hacking techniques
growth is the only metric that counts in growth marketing
validate ideas fast; don't wait
a sign up page is not the only measure you need to keep going
most companies don't use growth hacking; this is your advantage; many companies overlook this
online business isn't where growth hacking starts or even stops; it applies across the board
customer acquisition has to be mastered as part of growth hacking
customer acquisition cost is vital don't lose sight of them when growth marketing
user acquisition and customer acquisition are different
acquisition channels have to be well defined in advance for growth marketing
Using a wide range of growth hacking techniques
Marketing campaigns are marketing efforts, and good marketing strategies
Focus on new users but don't overlook existing users
at the core is the growth hacking experiment
Do not overlook product-market fit for growth hacking to work
Always start with a growth strategy before tooling up and growth hacking
Data analysis is key; let it guide your decisions; this is how growth hacking works
get a good cloud storage service with extra storage space
business growth is why growth hacking exists
best growth hackers are hard to find
building growth teams is critical; don't work alone
do not stop at google analytics growth hacking si way more
start growth hacking now to master it; don't wait
growth marketers are not growth hacking
a growth hacker funnel is the same as a growth funnel
tight budgets are why growth hacking exists
traditional marketing doesn't work anymore
continuous improvement is a must
small businesses do stand to gain the most from growth hacking
technical skills cannot be ignored
know your target group
Want to hire a good growth hacker? Get the job description right and include top technical skills
Google ads o not your fried but rather a crutch
mobile apps are not the only channel consider responsive strategies
What are the T-shaped skills?
The T-shaped approach is spread across sections of skills that are combined towards a specific skill set. The T-shaped process isn't the only model but one of the most popular for growth hackers. This brings into play several aspects like:
LEVEL 1 – skills and capabilities
Front-End Code
Service Design
UX Design
Behavioral Psychology
Stakeholder Management
Augmented / Virtual Reality
Finance
Omnichannel Marketing
Distributed Ledgers
LEVEL 2 – skills and capabilities
Analytics (not just google analytics)
Conversion Rate Optimisation
Experiment Design
Funnel Marketing
Automation & APIs
AI & Machine Learning
Branding / Storytelling
Copywriting
LEVEL 3 – skills and capabilities
Paid Social
Organic Social
SEO/SEM
Tools Marketing
Marketplaces
Sales
Email Marketing
Content Marketing
PR / Influencer
Qualitative Research
Virality
Retention
Mobile Optimisation
Landing Page Creation & Optimisation
Lead Generation
Revenue Testing
User On-Boarding
Lifecycle Marketing
These 35 skills over three levels are what help determine a good vs. a rising growth hacker. This helps growth hacking teams also manage diverse skills across the whole spectrum.
The T-shaped skills / Marketer model explained.
Building T-shaped knowledge and competencies are one of the most valuable things you can do for your future career and personal development.
T-shaped skills can be much more than just a bridge to IT; they can also be people who can bring significant value to your team and your organization. The high-level mix of broad skills is technology, marketing, strategy, and business operations. Technology plays the most vital part as it helps accelerate growth, and hence this becomes core to the cross-skilled approach.
T-shaped people possess cognitive skills, emotional intelligence, and creativity, making themselves the whole package. T-Shaped Skills integrate newly acquired knowledge with previous knowledge and gives your team the ability to understand various new information.
Agility is key to making T-Shaped teams work.
When you are building an agile team, you should look for agile teams made up of people with T-shaped skills. Teams that consist of T-Shape team members who possess and want to acquire these abilities tend to be more flexible and resilient, as their capabilities enable swarms to occur faster. By searching for T-Shaped skills,
A T-Shape person helps you build your company's best interdisciplinary teams. T-shaped people promote this attitude and make it practical, as these people can work on more than one type of task. A Good T-skilled attitude is:
Someone who is flexible
Someone who is creative
Someone who is a team player
Someone willing to consistently learn
Someone willing to share knowledge and train
Someone willing to collaborate with others
You need T-shaped skills, and you have to be aware that not many people in the market are good. They need a T-Shape person with the right combination of skills to shape their abilities.
Hiring a growth hacker
As a growth company, you will need a mindset that is built on growth. Let's learn about what works best for growing a team. Are there any good companies that hire growth hackers or a website? Allow Andy Johns to answer his own question.
Tell me the most important point of an interview with a growth hacker? Hopefully, the answers you find on Quora will explain your question better. Can you list the interview questions of growth hackers?
Recommend the best questions to raise before hiring a Growth Hacker. Should we hire hacking companies or one that provides real money development hacking? Why not? Share your thought or opinion over there on Facebook or Twitter.
breaking this all down one of the main tools that are used in the field o growth hacking is the "T-Shaped" skills. This is essentially a method on how to evaluate the cross-section of skills needed and used for a growth hacker.
A growth hacker needs to be cross-functional but good at many different parts all at once. The T-shaped skills challenge the traditional marketers; a few things like
growth hacker marketing
strategy overall
marketing strategy
marketing departments are obsolete
Analyzing data and data analysis
growth rate
learn growth hacking
viral marketing strategy
viral ideas
viral tools
digital marketing strategy
advanced marketing campaigns
how to manage potential customers
how to acquire new customers
true north concept
reverse engineer
more traffic is not enough
advertising
going beyond search engines
going beyond basic analytical skills
going beyond landing pages
going beyond your own website
mastering repeat users
mastering viral loops
One last but important note, growth hacking is not digital marketing this is one of the biggest misconceptions in today's world. growth hacking has many more aspects to it beyond marketing or digital marketing.
What is the Growth hacker mindset?
Four main taxonomies determine a growth hacker's mind: driver's reach, decisions, and tools. The combination of the four forms the underlying idea of aching disproportionate results.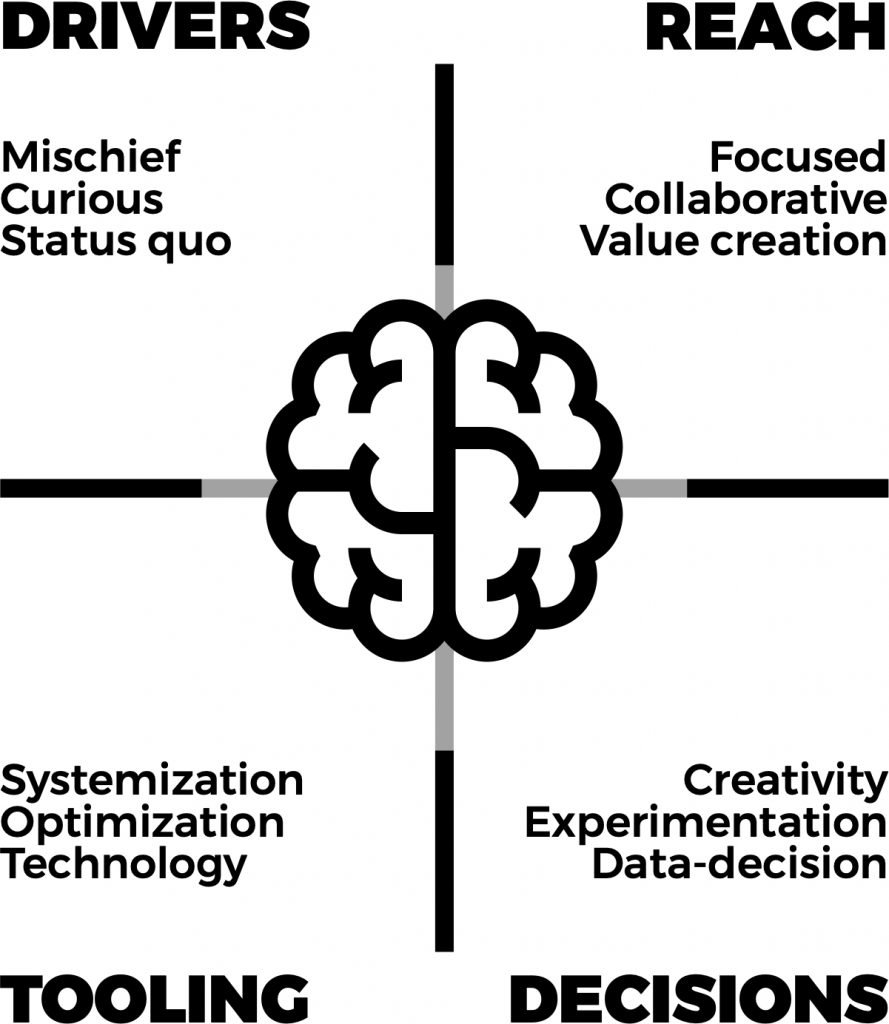 1. Drivers
The drivers are the underlying motivations and stimuli that inspire how growth hackers think and take action.
Mischiefness
They deeply need to break the rules, as they do not believe in the rules they have not benefited from governing and limiting their way of life. Therefore this underpins their thinking to find a way to break the rules to their benefit.
Curiosity
They are fascinated by digging deeper into how things work by asking the big why questions. This allows them to understand theories and phenomena better to map out their mechanics to manipulate them toward their benefit.
Status quo
The general rules over institutionalization drive their need to challenge the establishments surrounding them. This allows them to break the rules and change the norms of how society around them works.
2. Reach
Growth hackers have a goal to reach as many people as possible without the general population knowing how they did it.
Focused
They have a too-focused approach by pinning done abstract problems and creating unique structures to solve them.
Collaborative
They have a resourceful approach where they work with like-minded people and find other cross-functional people to reach their goals effectively.
Value-creation
They focus on creating value with monetization, often trying to reach the masses to make a change.
3. Decisions
When hacking growth optimization is the goal to solve at a high level, there is no one solution to a single problem but finding the fastest, easiest, and cheapest way.
Creativity
Growth hackers are resourceful; they find simple, fast, and digestible ways to solve problems. One of the challenges for growth hackers is thinking too technically.
Experimentation
They run tests and lots of them to determine the most optimal approach to getting results using all possible avenues.
Data-driven
They make decisions based on data, even if the data might potentially be blinding. Data helps determine the most optimal options.
4. Tools
Growth hackers are always seeking new tools, optimizing existing ones, and finding optimal ways of connecting them to get solutions.
Systemization
For a solution to work, it needs to be automated, and when automated, the probability of scalability is a lot higher when seeking exponential growth.
Optimization
When finding the right tools and connecting them, the goals are optimizing the way they work together. This holistic approach helps maximize optimization.
Technology
Technology enables automation, scalability, and integration, which underpins growth even if you're a non-tech company.
The mindset of a growth hacker is defined by how he or she solves problems. The elements described above are the most common thinking patterns of growth hackers.
14 Growth hacker habits
Growth hackers have 14 critical habits they work with. They do not work with all of them as a strength at once. You will find a single strength supported by three other habits and the rest for development over time. The 14 habits are:
Openness
Flexibility
No ego
Risk-taking
Fresh perspective
Generosity
Curiosity
Team focused
Listen before action
Cohesive approach
Consensus
Diplomatic
Action driven
Collective win
Remember that these habits help support the T-shaped skills.
01. Openness
They use an open approach to gain resources, using them, and find solutions to growth problems. This often is the underpinning factor behind their creativity.
02. Flexibility
When using an open approach, they work flexibly to solve growth problems knowing they don't have the exact solution but need to be flexible in finding it.
03. No ego
They focus on removing their ego from the equation; this is often challenged by technical thinking – blinding them to find creative solutions.
04. Risk-taking
They take bold yet calculated risks, often progressive, to manage unknown facts that are not seen early on.
05. Fresh perspective
They focus on finding new ways to solve existing problems by finding new solutions not yet attempted or poorly executed.
06. Generosity
They are open-handed to negotiate and broker the acquisition of new resources by being generous to open new doors.
07. Curiosity
They look deep into the whys. This helps them find unseen possibilities not seen by asking excellent questions and often challenging the status quo.
08. Team focused
They often are challenged with trust, but they thrive by forming collective learning and efforts when developing their small groups of trusted people.
09. Listen before action
They focus on getting useful quality information before managing their risks and coming up with better growth hacks quicker and easier.
10. Cohesive approach
They focus on developing networks beyond their teams for the exchange of know-how and cross-development opportunities.
11. Consensus
They focus on developing a common approach to ensure buy-in and momentum to generate the energy needed to undertake large initiatives.
12. Diplomatic
They are often challenged with being diplomatic, which ensures relationships supersede technical barriers to solutions.
13. Action driven
All their know-how and tools are geared towards taking action, leaving little space for theories that waste time and do not get results.
14. Collective wins
Finding ways that everyone wins in the process, including those directly involved, even if their role is minor in the overall outcome.
Traditional and technology examples
So I'm going to give you three traditional examples. I'm going to give you three new school examples of technology companies who've done this. And so, you can see a spectrum of examples of how this works.
So it hopefully helps you hone into what are some great examples of this happening. Now, number one, McDonald's. I love McDonald's are awesome. Awesome, awesome stuff. All right, so roughly 50 years ago, McDonald's had implemented a growth hack, they started building their own billboards, right? So keyword here is building their own billboards, and the growth hack was that they put it on busy freeways on exits right before one of their restaurants would be available in roughly one to three kilometers.
The reason being, they want to get you hungry with that beautiful BigMac picture and help you take action on it within one to three kilometers because guess what?
McDonalds drive-thru and Kodak growth hack
You can just drive right through. That's actually how they built their drive-through business. Amazing, right? The next one is Kodak, right?
Kodak is one of these super-scaled companies of its time. So one of them actually implemented several growth hacks, but one of my favorites is the disposable camera. So you'd pay once you get a camera with the film and the production costs all in one.
But the beauty of it is that these cameras would be available in convenient places that you'd want to take pictures that you would have probably forgotten to take your camera. And remember those were days when we didn't have mobiles with cameras on them, right?
Very different times. So they would put them in places like tourist attractions, like right at the entrance we were like, Oh my God, I ran out of film or I forgot to bring my camera or I need another camera or whatever the case may be.
FedEx Growth Hack
They hit you up in the right places, right? The next one is FedEx. So it used to be called federal express. When they actually pulled this off, they focused on optimizing their supply chain to do overnight delivery. And that's how they became known as the logistics.
Somebody who would just do overnight delivery and open up the whole express business because of this growth hack. And that's why they shortened their name from federal express to FedEx. Right. So that's a traditional example. So let me give you some newer ones. So Dropbox is a very famous one.
Their biggest growth hack is their ability to get their customers to do more referrals. Um, it's a lot more sophisticated and deeper than that. I'm just keeping it as simple as possible. But they built a sales force using their customers who can bring incredible, profitable customers for them.
Airbnb vs. Craigslist
And the second is Airbnb. Another classic, uh, they basically tapped into Craigslist, which was a listing service. So when they didn't have the volume to get people to go to their properties, they would automatically list them into Craigslist and drive the traffic straight to them.
And they were essentially lifting the traffic from Craigslist. Brilliant growth hack YouTube. So I don't know if you know this, but YouTube used to be a data video dating service to start with, and then they pivoted into video hosting.
And finally, what we see today, but their biggest growth hack before the video. Now, this is the strange part because we got so used to it. We didn't even think this is an impossibility, but the videos were not shareable.
That is, that is the biggest growth hack they've done. They are the ones that made them embeddable both through several places.
Growth Hacker Marketing: A primer on the future of PR, Marketing and Sales
Traditional marketing has changed forever. From public relations to marketing and sales. Although growth hacking and Growth hacker marketing are not the same things. In fact, marketing overall is a component of growth hacking and growth hacker marketing. More or less growth hacker marketing is a practice defined as a subset of growth hacking focused on marketing only.
Go viral with growth hacking
If people are going viral then they will access broader user bases and spread their reach across the entire supply chain and eventually the largest share of the market. Dropbox has slain it using its viral referral campaign. Twitter uses embeds as a key growth hack – and it is a good tool for getting Facebook to hit its 200 billion targets in a year.
YouTube wanted its content to be readily available online so the users had plenty of opportunities for videos to be posted on social sites. Is that really possible given the millions of impressions the Internet has caused in the last two years?
And it is not just Facebook that is making these sorts of things happen today. It also helped create backlinks and referral traffic by siphoning away authority from other websites.
Retention through growth hacking
In an article published in May Adobe said customers who rely upon repeat purchases had ten times the potential to convert or spend money. A Salesforce & Facebook study showed that when combined with email advertising with Facebook Ads, business results are on the increase. Facebook recently launched the integration into MailChimp.
By creating messages on an app you can quickly and effectively reach customers with your message. You can also combine the platforms so that Remarketing Campaign messages can coincide with marketing automation email in platforms like Zapier. In addition, you can run your own remarketing through Google Adwords Linked In or Twitter. You can choreograph whole campaigns before users do their actions.
Referrals with growth hacking
Frederick M. Reichheld published the One Number You Need to Know to Grow the Harvard Business Review in December 2003. Reichhold spent years developing this research and validated it and improving it. On numerous industry applications, the author found similar solid outcomes across the board.
Most of the products use the Net Promoter Score as it's an easy way to predict referrals. Products that have strong networking effects like Facebook or Dropbox also pay great attention to their viral coefficient.
The larger the distance you get from the competition the better your chances you have of winning. The more closer you are the greater the chance that your idea is not enough.
Activation with growth hacking
Free converts to customers' websites don't have any cost and only pay customers to use them. In my experience signing up for emails or opting in is a good start, but it's not all that clear to the general public. There's a trick here in optimizing user flows to speed them up. The broader the product the more handiwork must go first.
The next step is to ensure an enjoyable experience. Typically this is the onboarding phase where you provide tutorials that help people get the most out of your product. Services and attention is also quite important largely according to the product type. Simple products like Kanva include basic functions but can also be quite complicated.
Revenue With Growth Hacking
WPSEngine created a special email campaign that provides automatic updates for each purchase. It helps to get WP Engine's money up-front to resolve this negative cash flow issue. Growth hacking is not complicated either. I suppose it also requires technical skills if there's any way to follow these changes.
The key lies in the mentality. You need to continuously hypothesize new ideas, test, measurement and repeat until you get to a point of diminishing returns. You could try free ship when it's $50 instead of 20. Compare revenues with cost lowering to find out which one does it best. Rinse again.
Revenue With Growth Hacking
WPSEngine created a special email campaign that provides automatic updates for each purchase. It helps to get WP Engine's money up-front to resolve this negative cash flow issue. Growth hacking is not complicated either.
I suppose it also requires technical skills if there's any way to follow these changes. The key lies in the mentality. You need to continuously hypothesize new ideas, test, measurement and repeat until you get to a point of diminishing returns. You could try free ship when it's $50 instead of 20. Compare revenues with cost lowering to find out which one does it best. Rinse again.
What are the best viral growth hacks?
What does it really take to make a viral growth hack? A step by step perspective into how to develop your own viral growth hack
Listen to as a podcast
Listen to "12. What are the best viral growth hacks" on Spreaker.
What are the best viral growth hacks.
So before we get started, check out this guy and this guy is doing something absolutely genius and he absolutely fails at doing it. This video has gone viral and we're not just talking about viral videos, but we are talking about how to not mess it up.
Before we get started, definitely hit the subscribe button on my channel. Hit the bell button to you're completely and always notified. Hit the like, share this video, and at the end of this video I have one big promise for you.
Getting the numbers right for viral growth
Several people talk about this. I'm going to throw some stats onto here so that you understand what we're looking at. We have about 7.8 billion people globally, 4.5 billion users on the internet. 3.7 billion of them are active users on social media.
On average, an individual has 7.6 social media accounts and the daily average use per person is 142 minutes.
The reason I'm bringing this up is it shows you that you are fighting for attention. Fighting for attention means that the level of demand on the content that is being produced and those who consume certain forms of content more, which makes it more viral. So we're going to break this formula down.
We're going to look at the force of the four components and the first one is getting attention. Getting attention is about emotional hooks that get people in there having fun because people want to escape their daily realities being unique because you stand out and surprising throwing, throwing a wildcard in there that gets people completely thrown off.
Viral growth hacks work in several ways, not just social media
I do want to mention though, this is not about social media content alone. This is applicable across the board. I'm going to be giving you a few examples later in the video that shows how these are implemented into growth systems. The next part of the equation is driving attention first is incentives all the way.
When we talk about some of the examples, later on, you can see how some organizations that have growth hacks have put viral growth tax by creating incentives. Next is about status. So looking good being first, being ahead of the curve, giving people that special exclusive invitation lets people feel that they're very important, that allows them to drive that viral capability you want. And finally is action, action, actionable rewards.
So what I mean by action rewards is um, the incentive is one thing. But by taking an action, you're able to directly incentivize and reward them.
Big incentives big payouts it works…
And by doing so, you get high incentives. I've heard things of people being paid up to $2,000 to make projects happen, which is pretty cool. Finally is a company, I don't know if you all heard of, but it's called naked pizza.
And what naked pizza did very well is they deliver pizzas, they incentivized, uh, their delivery guys to take their brochures and drop them off, uh, along the way as they go up or in a building or different places as they go along.
So when people see a pizza, smell a pizza and then they have a way to take action because they can actually choose from a menu, call in and make that call. So it can be done in traditional businesses, tech businesses, it applies across the board. So as we reached the end, put in the comments below. I got a viral growth hack.
share, get feedback, and drive action at the right time
Share your ideas, give me feedback. So if you have an idea towards a potential viral growth hack, put it in the comments below. Use the hashtag growth hacking because we'd like to get the growth hacking community involved. Now we've reached the end. It's time to deliver on my promise. I would like to give you access. It is on a limited time, a limited quantity. It is my level one certified growth Ninja course.
It's a $100 course I'm offering for free. And the way to avail it is you can click on the link below with the instructions and you can avail that as we reached the end. I hope to see you in the course and I look forward to seeing you in my next video.
Why should I learn growth hacking?
Growth Hacking refers primarily to data-driven market leaders. It stresses analytical thinking. A growth hacker measure analyzes, tests, compares the product, refines, and repeats. Online courses are the best way to master growth hacking.
You will need different kinds of courses to supplement yourself and become a growth hacker. These topics include growth hacking courses and data analytics courses, primarily programming courses.
Please leave us a little more space in your comment on this article if your view was not reflected in this text when we should have. Top growth hacker courses in 2022 are listed here.
Learning from the top Online Growth Hacking & Marketing Courses
These growth hacking courses have been curated by experts providing an overview of this new dimension of marketing. CXL has a 114 hour Online Growth Marketing course, making it one of the most time-consuming marketing online courses. Growth Tribe Academy provides live and interactive courses which encourage active learning and ensure that students completed the course as soon as possible.
The HypeBomb course was aimed at people starting businesses and companies. The Demand curve course is meant to help you learn the general spectrum of growth marketing to get the opportunity to gain business development experience of each market segment and industry. This video tutorial will introduce you to google search advertising, Facebook e-mails, and Google AdWords.
Tipping away from the mainstream growth hacking course, there are special places where advanced, and high-speed training occurs. one of those sources is the growth ninja school run by best-selling author Nader Sabry of Ready Set Growth hack.
What you will learn at growth ninja school
Growth hacking courses are designed to take you from strategy to action in an effective way.
Growth Skills
Learn foundation growth skills to supercharge your startup, cooperation, or government organization
Advanced techniques
Develop advanced strategies, tools, and methods based on heavily guarded secrets of the fastest-growing companies in the world
Your formula
This blueprint training is designed to formulate your own customized formula that works for your own growth.
Top 7 books on growth hacking
1- Hacking growth
The book Hacking Growth was created to show you how the basics of hacking are covered. It was used in many different industries/businesses/success stories. Some companies applying growth hacking strategies include Google, Twitter, and others. This book explains how it works and will help you find success! It'll also help you know how to find growth hacking.
2- Growing happy clients
You do not have to be a growth hacker to enjoy this book. The author helps readers understand why he was successful at hacking growth for his own book. In this guide, you will read everything that separates successful growth hackers from average hackers from the average one. Among things learning this book are:.
3- Hooked
Nir Eyal's books shed a light on why a user always looks back to it. He shows how to promote addictive behavior among Consumers via triggers and rewards. The Hooked Model is a new way to look at ways to encourage retention in society. The book provides a unique view of growth hacking techniques.
4- Don't make me think.
I consider this book an unquestionable need for any UI designer, growth marketer, or web designer who wants to make more money. What are things like this when a visit is hardly intuitive when they have to do so just a few seconds?
5- Growth Hacking: Silicon Valley's best kept secret
Growth hackers are sometimes referred to as growth hackers by the Silicon Valley elite because they can accelerate a company's growth. This book aims to answer all your questions and to create awareness about this trend that is gaining popularity among entrepreneurs marketing professionals. The novel is written by Raymond Fong and Chad Riddersen and is published by Harper.
6- Contagious
Jonah Berger investigates where something goes viral and explains how these events happen. People don't see adverts they hear others' views. My videos have a Facebook status but one time is there an instant response when I reload? This book explores how something goes from unpopular to wildly popular to become wildly popular. How would a person be perceived by an unassuming person as being so popular?
7- Traction
The key to thriving is how consistently you grow and acquire new customers. It's called traction and it makes everything else easy—fundraising, hiring press partnerships, and acquisitions. The book teaches you the nineteen channels to improve business continuity and how you pick the right one. In this book, you will see how to build a business around the world, hire press partnerships and build a brand new customer base around the same channel as you want to build around the Internet. Choose the best channel to create a business around Facebook, Twitter, YouTube, Facebook, and Twitter.
===========
Introduction to growth thinking — growth by design, how to thinking design, and growth hack.
GROWTH BY DESIGN – Most Growth Hackers struggle to get traction for new ideas. A lack of guidance and exact next steps are to blame. Imagine if you could grow a new concept from beginning to end, with a framework to move from thought and action in a fast, simple, and low-cost approach. Actioning ideas with precision isn't easy; with the growth thinking, science-backed design system built by the top minds in growth hacking, it's a simple, well-structured yet creative system that allows you to find growth.
Growth thinking is a fast, easy, and simple way to prototype growth hacks. This enables growth by visualizing a growth hack in abstract and then detailing them into a systematic approach. This makes it easy to develop and improve growth hacks and generate new, better growth hacks.
Benefits of the growth thinking design methodology —
From idea to action – accurately and rapidly turn growth hacking ideas into execution quickly and cost-effectively,
Think at scale – quickly and effortlessly find methods to take an abstract growth hack, structure it, scale it, and
Save time and money – rapidly prototype your growth hacking ideas saving time and money.
This methodology uses a design system that Visualization, Systemize, Optimization, helps Rapid development,
and instills Collaboration.