Marketing buzz words are all around us for some reason. It seems we have more buzzwords in the field of marketing than anywhere else. Marketing buzzwords, here we come. We can't cover all of them, but one of the main ones we will cover here is the area f growth hacking.
Want to sound supersmart will start using buzz words, especially marketing buzz words. Marketing buzzwords can actually be a lot of fun. The challenge with marketing buzzwords is how they confuse everybody, even non-marketing people, equally and seriously for those in the marketing field.
Marketing buzzwords exist because of how dynamic the marketing practice is. As new practices emerge in new technologies buzzwords are a binding agent that brings new ideas and concepts together, especially with marketing buzzwords.
The marketing industry and buzz words have been synonymous for a long time but let's not let that get in the way of our buzz word debugging.
Before we get started, some helpful background to growth hacking
What is growth hacking?
Growth hackers explore new growth opportunities systematically at any point of the customer journey, from awareness through the market to brand ambassadors by optimizing the product.
In terms of technology, it originated in 2010 when Sean Ellis coined it is mostly used by startups because of its limited budgets and limited resources.
Since then, it has shown an incredible increase in popularization among large-scale and traditional businesses. Companies like Shopify like Uber has their own head of growth and dedicated growth team. The growth hacker is based on an experiment-based, data-driven.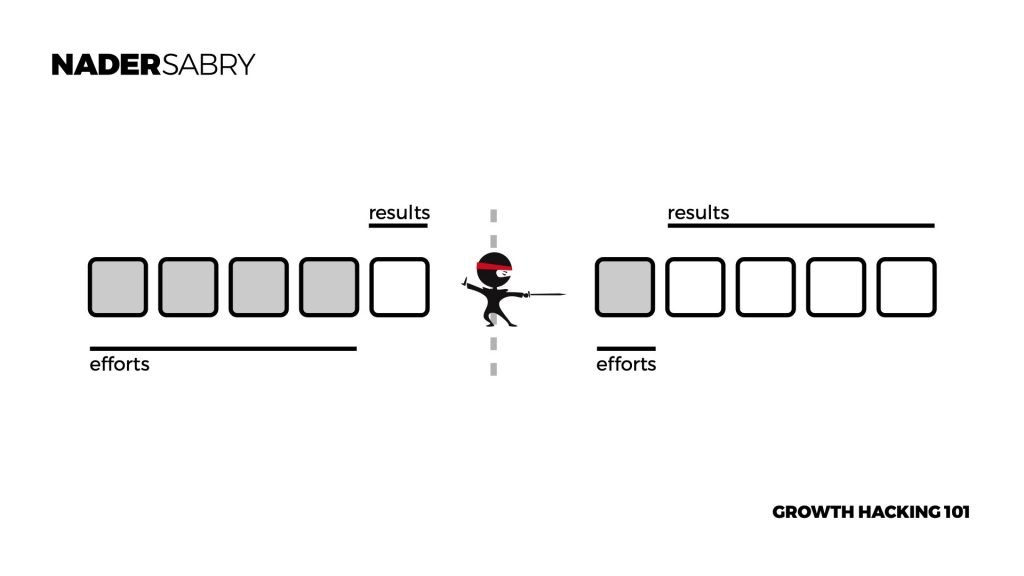 There is a wide range of definitions. In the Book Ready Set Growth Hack, growth hacking is defined at a strategic level as a process that achieved disproportional results.
This is best understood through an example of efforts v.s results. This is when less effort is exerted to get dispositional results.
How does growth hacking work?
The Ready Set Growth Hack defines growth hacking as a systematic process governed by the growth cycle concept.
The growth cycle is a three-phase process, where it starts with a growth problem, moves into experimentation then into scaling.
Based on this process, once a growth problem is well defined through a specific process, it would then be up to the growth hacker to find solutions. Solutions are found vis structured and systematic experimentations.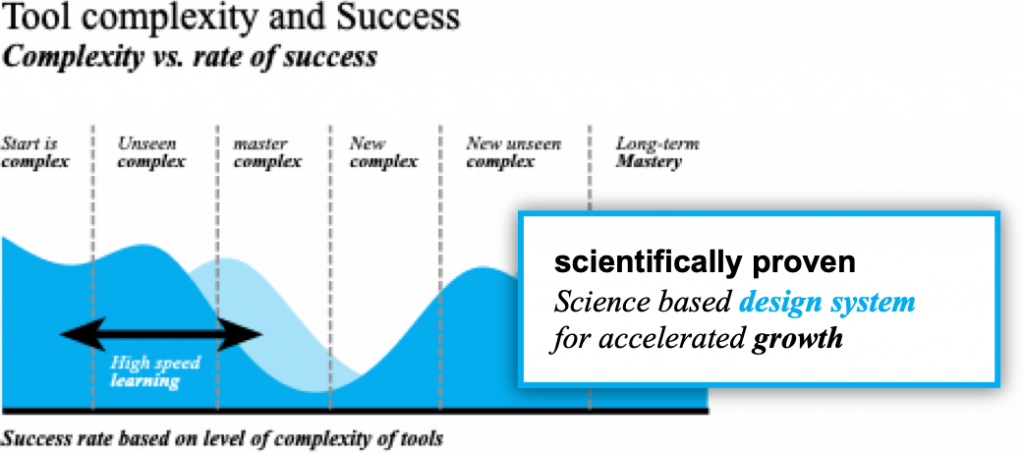 Using growth analytics for data-driven growth decisions, growth hackers can quickly discover what works and doesn't before investing a penny in more development. This is governed by a process called growth thinking which is a design methodology used for growth hacking.
Break the rules – growth hacking
The hidden weapons of growth hacking are simple and simple: Be a rule-breaker. The job requires you to think outside the box and unleash your creativity.
A growth hack involves having the right mindset on growth. This job requires creativity and ad-hoc experiment with hypotheses and high potential.
Be creative growth Hacks won't come with any rules. Rule-breaking is at the core of growth thinking and how the growth hacking process works.
if a rule is working, find a better way to break I
If a rule isn't working, break it with a better one
If a rule is about to fail, let it and then break it
If a rule is about to have success, break that too
The growth hacking mindset or growth mindset is a very different way of working than that of other professions. Their goal is the north star metric which is basically a growth goal and only a growth goal.
68 marketing buzz words organized
Let's get straight into this what's the list out some of the most common passwords, so we know what they are; this doesn't mean that the right doesn't mean that the wrong they're just marketing buzzwords we need to be aware of.
Growth – marketing buzzwords
growth hacking
growth marketing
growth hacking marketing
customer retention
customer retention strategies
target customers
adjacent customers
customer experience
customer retention
customer acquisition
thought leaders
low hanging fruit
Strategy – marketing buzzwords
digital marketing
digital marketing playbook
social, digital marketing
digital marketing strategies
digital marketing techniques
bootstrap marketing strategies utilized
free marketing methods
marketing campaigns
digital marketing campaigns
Social marketing campaigns
social media marketing
micro influencers
online marketing
online marketing strategies
marketing processes
customer journey
buyer's journey
inbound marketing
omnichannel marketing
Technology – marketing buzzwords
artificial intelligence
big data
big data analytics
digital big data
voice data
GPS data
marketing automation
structured and unstructured data
mobile optimization
search engines
search rankings
rank higher
organic traffic
driving clicks
mobile devices
mobile devices responsiveness
live streaming
geographically target audiences
location based advertising
provide location based advertising
google ads
conversion rates
front page
web pages
customer information
Content – marketing buzzwords
content strategy
quality content
awesome content
digital content strategy
commandeering content
product promotion
target audience
media entertainment
writers cover
contextual marketing
contextual marketing content
contextual marketing strategy
Why is it important to understand Buzzwords?
Buzzwords in business are part of corporate life. While some buzzwords are valuable to some, others are simple terms that are just lazy.
We have created the ultimate list of buzzwords associated with marketing, sales services, and maybe even social media and millennial marketing.
Take notes here for the ultimate business buzzword list to keep up with your boss and your colleagues at the top of your corporate speaking list for the next few weeks and to take note at the end of the list.
Buzz words are not always a bad thing the reason I exist is they help the evolution of new concepts and practices to evolve.
So understanding what those buzz words mean is crucial, but pulling into contact with an evolving practice or a new discipline is an important way of understanding what buzz words mean.
Beyond the 56 identified passwords in marketing, there are a few more highlights the need to be dug into a bit deeper let's take a look.
Marketing Automation
Marketing automation is essentially being able to automate the key components of the marketing process. This typically will be based on a sales funnel, which means creating visibility all the way to qualifying a customer, converting them into revenue, and then retaining them.
The marketing automation process allows the marketing process to be able to scale components by integrating them.
This gives a big advantage of cost savings, time savings, and efficiency. Additionally, this creates new forms of data analytics that Alain Saade uses to make strategic decisions.
Data analytics helps us make on-the-fly decisions or potentially even automating data-driven decisions to target better potential customers and satisfied existing ones in a better way.
Analytics and digital marketing
Analytics are fundamental to the marketing process. Without having good quality data, we would not be able to make data-driven decisions. Some of these decisions would be like
who to target
how to best target them
why they make a purchase
Why they do not make a purchase
what can trigger a customer to spend more money
how to influence the customer
bring new customers
how to create more loyalty
what are the best channels to get visibility
Marketing automation helps with making some of these crucial decisions. Marketing automation enables a marketing team to gather real-time data to make timely decisions and act on them in an automated manner.
Algorithm and digital marketing strategies
An algorithm is a formula that gives the software the power to follow mathematical procedures to solve a mathematical problem.
When a new algorithm is added, marketers pay attention because it could potentially engage or reach a new audience.
The changes radically changed Google's search algorithm dramatically and positively affected their brand rankings and online revenue.
Facebook also uses algorithms to determine the relevancy of ads and content delivered to customers and determine its relevance for its users and on social media.
The algorithm is the heart of technology. The algorithm is the process that takes data and converts it into actions and ideally automated actions.
Everything from search engines to social media platforms is consistently developing, updating, and advancing their algorithms.
Algorithms play a fundamental role in digital marketing, especially in growth hacking, enabling smarter decision-making, especially in an automated format.
CRM is an old school marketing buzz words
CRMs provide user visibility and enable businesses to maintain customer loyalty and increase customers retention. CRM's visualize customer behavior, journey, and revenue to ensure you know where customer journey leads to purchase.
A CRM system analyzes engagement histories across your marketing channels, enabling the collection of engagement statistics.
This is easier for users to take actionable insights and analyze key metrics, drive results, and drive results.
A good CRM system enables marketing automation and other digital analytics. In essence, a customer relationship management system should capture manage reports on customer data. This enables a good CRM system to be able to target customers better retain customers. It also can stimulate creativity in coming up with new ways to target old customers.
SEO a new school marketing buzz words
Search engine optimization is crucial in the marketing world, especially when it comes to growth hacking. The reason it is essential is that it taps into what is called organic traffic.
Organic traffic essentially means potential customers searching for what I already offered and tapping into a traffic-free of charge.
Organic traffic is vital that it helps or sad any direct paid advertising or other high marketing costs. Good search engine optimization enables an organization to tap into direct and indirect traffic not already existing and at a meager cost over a long time. Search engine optimization strategies are a long-term play.
Search engines use web bots to look up information. Once this information is collected through an algorithm, it is fed to your web page by various rankings criteria. SEO aims to deliver high volumes of quality traffic to your site.
Google determines this when they think of your website as important to customers. You will automatically rank for those people who find it helpful. Find the top-ranking Google offers by choosing some indices and factors.
Customer Journey
The customer journey is when a customer is managed from the time they are a potential customer to when they turn into a pate customer and when they are retained. This journey is crucial to developing a good customer experience.
This includes all processes that make the interactions between your organization and the customer vital because it sets a positive customer experience.
Mastering the customer journey is crucial in making an organization highly effective, especially in customer service. Customer service in today's world is a highly underestimated component when it comes to growth hacking.
That, combined with poor onboarding processes, would result in a very poor-performing customer journey. On the opposite side of the spectrum, great onboarding combined with excellent customer service is great in retaining existing customers and attracting new customers, especially through referrals.
Micro Moments
According to the Think with Google study, about 91% of people use mobile phones as part of work. The best companies use micro-moment research to understand what their customers want for their business.
They then create a strategy to answer these questions in real-time. To make the most effective use of micro-Moments, ensure your customers with actionable content that is useful anywhere at any time or anywhere to help them with their questions in a real-world environment.
A micro-moment is a very crucial part of influencer marketing. A perfect influencer can take a micro-moment and make it viral. That could be as simple as a testimonial pointing something out an audience did not know or doing something attractive that has not been done before.
Mastering the micro-moment is vital for tapping into social media platforms and gaining as much organic traffic as possible.
AI or artificial intelligence
Marketers love AI because it gives them the ability to use data to replace human actions efficiently. Automated processes provide businesses with minimal overheads and can help reduce costs. If you talk to chatbots, use Siri on your iPhones, or leverage marketing automation – you're using AI. AI is permeating the world of marketing.
We have seen artificial intelligence implemented in unique ways, including chatbots invoice and driven technologies like Siri.
Artificial intelligence, in this essence, is automated decision-making where the user can tap into precious services by activating them through either a click or voice.
Artificial intelligence plays a significant role in marketing automation, even to the point where you see any automation involved. More decision needs to be made Rester sure artificial intelligence will be at the center of exactly that.
A deep dive into mere concepts and buzz words to get familiar with
We have just converted some high-level concepts that drive some of the biggest and most used buzzwords in marketing. Beyond this, we will dig into some other crucial concepts to understand some of the concepts not just listed above are going beyond that.
Bounce Rate
Bounce rate is the percentage of visitors leaving your company's page without clicking on the first page. It can be a critical measure especially if your business relies on people taking a page from the page they visited.
If you have an online store, you must figure out why people rarely click through or click the product link on its website. Is their bounce rate a good way to see the problem and improve your site?
For example, people might come to the Internet because people might stop following you from the home page.
Bounce rates are an excellent indicator of the quality of content being served. This also can demonstrate the quality of traffic that is coming in.
A high bounce rate will indicate that the quality of the content and the alignment of the audience may not be of good quality. On the other hand, a low bounce rate would indicate a relevant audience plus good quality content.
Some variations can manipulate bounce rates; this could include poor advertising, poor usage of keywords, or misleading information both organically and paid to advertise.
Digital Marketing Strategy
Essentially an Internet marketing strategy is your 'plan of attack' to find prospects. A well-implemented digital strategy also involves taking the necessary steps. Consider a digital marketing strategy equivalent to that of your traditional marketing digitalized.
By collecting data and reviewing it throughout your campaign, you will tell what works, what fails has been implemented, and how you must move the program forward.
The digitalization process goes way beyond data collection and the automation of processes that enable you to target better and retain customers at a low cost.
There's no one-size-fits-all strategy for online marketing depending on your business and audience that may involve blog post video, infographics, and other forms. How can you learn digital marketing strategy?
Metric
Need to make decisions welcome to the world of metric. If you cannot measure it, you cannot manage it, especially if you're operating in a digital world. Answering some key questions to making vital strategic decisions in the area are marketing or by key metrics.
Data-driven decisions are important whether they are automated or not; there has to be a metric at the center at the end of the day.
Your marketing metrics are the things you utilize when tracking a campaign/project. How are many comments on a post on Instagram one metric? Website traffic is another factor. This is important as indicators and metrics are different from benchmarks.
You can still follow or comment on Instagram as this can be useful for future campaigns, but these don't need to switch from metric to KPI for today.
For example, in online retail marketing SEO, Organic Click rates are a KPI to show a client's website traffic growth a 200% boost organic search. In the U.S., it's an effective way to track how audiences react to your product.
Infographic
Infographical representations present information that makes them more easily understandable. Many Infographics have colorful backgrounds and beautiful illustrations. Data visualization is an important part of communicating complex information and being able to make better decisions.
Typically this has always been seen in the world of data as reporting. Reporting had its visual limitations with fundamental elements.
In today's world, data visualization is very rich due to new and advanced tools that allow was to see data in a way that we've never seen before.
Some well-known applications for things like heat mapping where you're able to track physical traffic and nowhere to position something in a better place.
That can also include re-engineering traffic flow in physical areas where you need a better ability to manage large crowds.
When presented graphically, it attracts the attention of people. If these statistics were presented as bullets or paragraphs, a lot of people might ignore them. If this info were presented in words, it would be overlooked.
For example, a snippet of an infographic from SerpWatch is titled Seven Trends you have to know for a successful digital marketing campaign.
Brand Identity
Your branding identity is the visual feature that differentiates your business from any other business. It includes anything from your logo and site to the graphic on your advertising banners.
Brand identity, especially in a digital world, is crucial. Branding is vital if you want to make your long-term strategies work, especially when developing a digital sales funnel. Trying to stand out in a very noisy world is a huge form of complexity regarding brand identity.
Thanks to a new type of digital tool are in a much richer design community, today's brand identity has become very low cost and easy to do.
Anything that touches public perceptions about your company is an element of your identity. As 99designs noted in its introductory article, Brand identity means different things, although often confusing.
Your brand represents your company's intangible qualities, while your visual elements communicate these qualities, as does its mission or voice value. Your brand represents all of you.
Prospects
Once we know someone is interested in our product but hasn't converted them into an investor, we called them a prospect.
Prospects meet all three criteria. For example, they could download your white paper or take a survey on your website. If a customer fits into a particular target audience, you might send a customized email to e-mail them. In essence, a prospect is a future customer who has not paid you for your products or services.
Last but not least, it helps you determine where your marketing should focus on. If you know someone interested in your product, it makes sense to pursue those leads instead of others who may not be interested.
What is important about prospecting is being able to target and identified the right type of customer. The prospecting process is being able to take a potential customer and turning them into a pate customer.
Ideally, you should be able also to retain a customer once the customer has been fired to the prospecting process.
Clickbait
Click baiting is an old-school marketing trick that used to occur before we even touched the digital world. Although new laws have been formed to stop this kind of activity continues and will continue to become more sophisticated with time.
The reason that click-baiting will continue to happen is that it continues to be effective. One of the main reasons why baiting is effective is based on the lack of knowledge exposure or capital based on how naive people are hence why they would actually click and believe what is being offered.
In terms of hyperlinks, clickbait involves the installation of tricks in which the mouse clicks. Usually, the link elicits emotion to earn a click, but the contents don't deliver what they promise. Marketers can use clickbait while being authentic and providing value.
The top ten pages in a blog post and other titles that evoke interest or emotion are often called clickbait, although they have the same negative qualities as true clickbait. Clickbatteries provide a good return on their investment and are genuine but negative. Not so bad as real clickbait.
Convert/Conversion
Marketing conversion occurs when you ask someone to do what you want them to do. If you want to grow an email list, then it will convert each time someone signs up.
Even for free consultations, you'd better get them to come to you and get into a meeting. Occasionally these are small conversions that can help track your marketing progress.
The ultimate goal of your business is to generate revenue, but this is not the only metric of success; it is the only way your business gets the best result. In the US market, conversions are important indicators for success.
The ability to convert a customer is core to the digital marketing strategy. One of the crucial decisions towards conversion is whether the creative content is being used working or not.
Content is crucial to conversion; understanding your customer target them at the right place and the right time with the right offering is all about good quality conversion.
Mobile optimization
In 2021 nearly one billion people have smartphones. If you only do a desktop copy of your website in web mode, it may look wonky to other people looking at it on mobile devices.
Google has implemented something which is classified as mobile-first. This is important because they optimize and prioritize websites that put the mobile experience before tablet or desktop. The reason behind that is the large volume of mobile usage.
Many people have different needs for desktop apps. You can't tap onto the screen of a computer. You can't right-click a phone.
So you need a responsive website that identifies the user device and adapts itself accordingly in Web Design Mobile Optimizing.
If you want people to stay on a website without jumping immediately, you will have to optimize your site.
Gated Content
Gated content is another old-school marketing trick. In the world of digital, this is vital. Gated content works by creating a hook for free, providing a value for free that stimulates someone to go for paid content.
Gated content is vital in a world where people are selling information products. Information products win digitalized to have gated content free content to the front to drive in a value to drive a customers ability to want to spend on the paid content.
Content-based marketing is a useful tool because it allows you to develop relations with the people your prospect you want. Instead of sending content to the world and hoping it can find the right audience, you can attract them.
If you do it right, the content is sufficient to attract prospects willing to exchange contacts for it. Examples of gated content include: Examples of value for prospects traded through the contact information or a prospect chatted with.
Gamify
The term gamify refers to an internet marketing technique that applies game-forming elements such as points scoring and competition to a simple task that transforms people actually want to do, not anything that they have to.
Gamer furcation is a great way to take something that would typically be boring and make it super exciting. This process can apply to many things, and being able to do that for a brand in their marketing strategy please plays a significant role in standing out in today's noisy marketplace.
Nissan's Carwings app is for those who drive the Leaf and compare the performance of their electric vehicles to others based on bronze, silver, and gold standardized ratings. A well-presentive instance of consumers using gamification is Nissan's carwings app for drivers of a Leaf.
Omnichannel marketing
The Omnichannel Marketing solution is useful whether it is a traditional or online store. Each platform provides an identity and consistency on multiple platforms ensuring the content is always consistent.
Using Omnichannel shopping, consumers can purchase the product online and pick it up at their local store or deliver it elsewhere.
This is definitely changing buying landscape of holiday shops. It makes sense for consumers to buy things online and purchase items in stores.
Micro influencer marketing
Micro influencer marketing represents Influencer marketing that has more impact. Influencer groups of 500 or more fans can be chosen.
The more relatable content has been more effective when reaching high-quality leads as this offers more opportunities to engage. It flattens Twitter's own playing field, and so on flattens it.
Micro-influencers emerged when macro-influencers essential social media influencers with large audiences stopped delivering value.
It was discovered that micro-influencers who have smaller audiences have better engagement. Although it might make sense to work with an influencer who has more followers, it actually doesn't
What betters is the engagement rate. A Micro influencer is better positioned to address a smaller yet more potent audience than a macro influencer.
This creates more value for marketing campaigns where influencers are vital to the social media strategy being used.
SERP – Search Engine Results Page
Search engine results pages are pages – where you can see everything you have searched for. For SEO professionals, it should be every company's goal to finish at 10th place.
The key to making this work is getting a high-level ranking. A high-level search engine optimization ranking is based on your ability to produce good quality and relevant content.
This will improve your odds of being clicked by your site traffic and increase organic traffic on it. The SERP is a search engine result page that shows user-specified information like term description product hours in your region flights, plumbers, etc., that they are searching for.
CTA – Call to Action
An isolated button usually indicates the CTA in a site or campaign, e.g., an email campaign. It is offset by placement, size, and color scheme to attract users' attention to the optimal place. You may also want to download from our YouTube channel by following these CTAs. CTA gives specific instructions to your target audience regarding how to do the desired action.
The call to action needs to be tested very well as different audiences will respond in different ways. The call to action is usually the last element of your content that tells a potential customer what to do. Although through optimization strategies, CTAs have been put in multiple places, not just at the end.
Having a compelling call to action can greatly change your conversion rate optimization at all levels in your sales and marketing funnel.
Re-targeting
Customer retargeting is a marketing strategy for an online business aimed at those who lost their customers online. A pixel that tracks websites or apps to show ads to your fans and advertisers shows the users of the product have seen or searched before. It may seem intrusive, but it is an effective strategy for keeping your company top of mind for consumers.
This is essentially a strategy to recycle interest. Getting in front of potential customers is vital. But having a high frequency in the right place and the right time is important to conversation rate operationalization.
Retargeting is a great way of ensuring frequency and building trust in the reminder of the potential customer. This can also retain customers or even upsell customers on new offerings based on past purchasing behaviors.
CRM advertising
CRM advertising is a derivative of data-driven marketing. You use customer info in a CRM to target users on social platforms like Facebook and other websites such as Google. Data analytics are also used to assist in constructing marketing strategies. CRM is very prominent in data-driven marketing strategy. This helps you find the right audience at the right cost in the right place.
Hyperlocal
Hyperlocal searches use GPS data to target geographical audiences and provide location-based advertising. Hyperlocal SEO is optimizing your online content based on locations. It uses location information such as a street address, proximity to local attractions, and even longitude or latitude to identify people.
Freemium
The strategy in which the Basic version of a product is offered without paying. Added functionality requires the installation of upgraded versions. Some examples are WordPress, Mailchimp, and Hootsuite.
This is a commonly used business model. This enables high conversion via giving free entry but charging for add-ons or a free trial then buy.
Big Data
The massive collection of structured and unstructured data is often difficult to access with traditional methods. It may include data collected via smartphone use, internet browsing speech data, etc. Big data is about collecting data but more importantly is how to use the data.
===========
Introduction to growth thinking — growth by design, how to thinking design, and growth hack.
GROWTH BY DESIGN – Most Growth Hackers struggle to get traction for new ideas. A lack of guidance and exact next steps are to blame.
Imagine if you could grow a new concept from beginning to end, with a framework to move from thought and action in a fast, simple, and low-cost approach.
Actioning ideas with precision isn't easy; with the growth thinking, science-backed design system built by the top minds in growth hacking, it's a simple, well-structured yet creative system that allows you to find growth.
Growth thinking is a fast, easy, and simple way to prototype growth hacks. This enables growth by visualizing a growth hack in abstract and then detailing them into a systematic approach. This makes it easy to develop and improve growth hacks and generate new, better growth hacks.